Designer George Nelson, year 1947
This platform bench in one of the best known designs of the American architect, George Nelson. Nelson was editor of Architectural Forum and throughout the 1940's and 1950's was certainly one of the most significant figures in the American design community. From 1945 up until 1962 Nelson served as design director of Herman Miller, Inc.
The platform bench was designed to be used not only as a seating unit but also as a table and as a support for storage cabinets. The original manufacturer stopped producing this model in the early 1960's.
776
Bench with top in natural or black painted solid hickory. Black painted wooden feet.
L./W.
H.
P./D.
180
35
47
CM
W.
H.
D.
70,9″
13,8″
18,5″
IN
Finishes
The certified quality of Mvsevm's italian design solutions, all traditionally-made using top-quality materials, becomes the focal point of furnishings where style is an experience to be explored. A collection born from formal creativity and sensibility for materials and a journey into the beauty of contemporary spaces.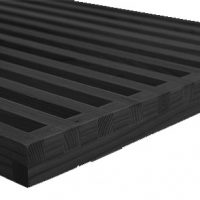 Colors and finishes are approximate and may slightly differ from actual ones. Please visit ALIVAR dealers to see the complete sample collection and get further details about our products.