Designer Frederick Kiesler, year 1935
This cpffee table was part of the furniture designed by Frederick Kiesler for the New York apartment of the fabric designer, Alma Mergentine. A drawing of 1935, shows the same two nesting tops with conical legs. It is probable that the table in its present form was made slightly later in 1935 or in 1936. At any rate, it is reported that Kiesler showed the Mergentine apartment to Philip Johnson and to John D.Rockefeller II in 1936. We can assume that at the time the table was in place. Only one example of the original table was produced. It is now in a private collection.
Although Kiesler was never an economically successful designer, he had an enormous effect upon the design philosophy of this century. This is due to the fact that he had a basic idea which brought design beyond the limits imposed by functionalism. That idea was of the spatial continuity of "endlessness", an idea which he expressed with great clarity The lapidary expressions of Kiesler are destined to be remembered. "Form does not follow function. Function follows vision. Vision follows reality".
Kiesler was not a "voice crying in the wilderness" but an active participant in the world of art and design. Kiesler was a friend or, at least, aquaintance of an incredible number of major artists and intellectuals and was universally respected and admired.
Among his major achievements are the design and construction of the first theatre in the round that was actually used (Vienna 1924) and the design of the Film Guild Cinema (1929) which was the first cinema designed as such. His architectural masterpiece was The Shrine of the Book (1959-1965), a sanctuary in Jerusalem built to hold the Dead Sea Scrolls: This last work was done together with his former student, Armand Bartos.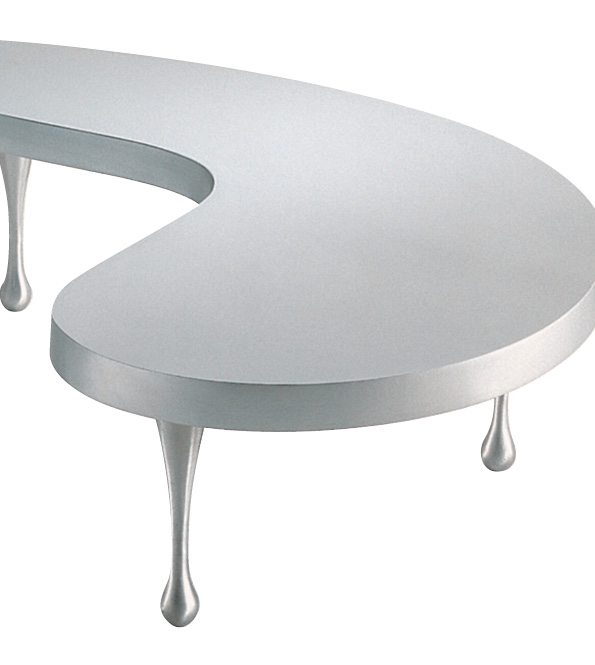 789
Two coffee tables combined together thanks to the shaped tops. Top and legs in brushed cast aluminium.
L./W.
H.
P./D.
90
24,5
64
CM
W.
H.
D.
35,4″
9,6″
25,2″
IN
L./W.
H.
P./D.
64
24,5
41
CM
W.
H.
D.
25,2″
9,6″
16,1″
IN
The certified quality of Mvsevm's italian design solutions, all traditionally-made using top-quality materials, becomes the focal point of furnishings where style is an experience to be explored. A collection born from formal creativity and sensibility for materials and a journey into the beauty of contemporary spaces.
Colors and finishes are approximate and may slightly differ from actual ones. Please visit ALIVAR dealers to see the complete sample collection and get further details about our products.